Maastricht Science Programme
Your future
The Maastricht Science Programme offers you the opportunity to create your own curriculum. Your own profile can qualify you for a variety of master's programmes and later for a wide range of professional fields. You have the freedom to explore your interests and abilities and to specialise in the area that suits you best.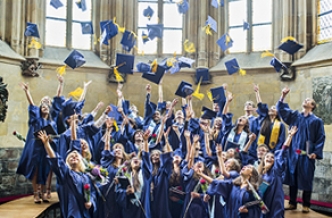 Master's programmes after MSP
The ability to create a unique academic profile will allow you to follow a wide variety of master's programmes at Maastricht University and elsewhere. Your academic advisor will help you select courses for the profile you would like to build. This will help you to take the required courses to be eligible for admission into the master's programme of your choice.  
Depending on the courses and skills trainings you take, you will be well-prepared for a master's in physics, chemistry, biology or neuroscience. Or you can pursue a multidisciplinary master's programme like systems biology or biobased materials.
Career prospects
The Maastricht Science Programme prepares you for a variety of career opportunities. You can become, for instance, a researcher at a university or scientific institute or a scientist at a multinational company or a hospital. You can even choose to start your own business in science or technology.
Our graduates are admitted in master's programmes such as:
Master Sustainable Energy Technology - Delft University, The Netherlands
Master Bio-pharmaceutical Sciences - Leiden University, The Netherlands
Master Chemistry - Université de Nice, France
Master Molecular Medicine - Ulm University, Germany
Master Synthetic Biology and Biotechnology - University of Edinburgh, UK
MRes & Ph.D Graphene Technology - University of Cambridge, UK
Mres & Ph.D Cardiovascular Research - King's College London, UK
Master Materials Science and Engineering - EPFL, Switzerland
Master Biology (Cancer Biology) - University of Zurich, Switzerland
Masters Marine Biology - University of Cape Town, South Africa
Ph.D Biochemistry - Oxford University, UK
Master Interdisciplinairy Neuroscience - Goethe University Frankfurt, Germany
Master Space Physiology & Health - King's College London, UK
Master Neurochemistry/Molecular Neurobiology - Stockholm University, Sweden
Multiple disciplines
The issues that science and society will face in areas such as sustainability, energy, biobased materials, biomedical innovations and nutrition will be so complex that, apart from their own specialisation, scientists will require insights from multiple disciplines to successfully meet these challenges.
Degree
Graduates of the Maastricht Science Programme are awarded with an internationally recognised Bachelor of Science degree with a tailored curriculum.
Alumni
To keep in touch after graduation, MSP alumni organise a yearly alumni conference at Maastricht Science Programme. The programme includes presentations from alumni about their research/work and a career advice session for new alumni and current students.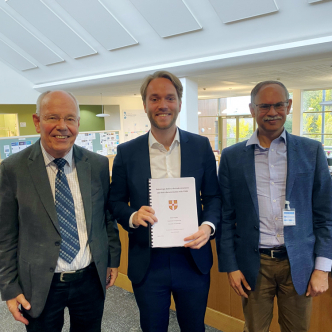 After Maastricht, I went to the University of Cambridge to start a MRes in Graphene Technology and a PhD on lithium-ion battery electrodes and their characterisation.
I also became a Fellow of the World Economic Forum for the Global Future Council on Energy Technologies and received multiple awards including the Trinity Bradfield Prize. I submitted my PhD in July and defended the PhD mid November 2019. After my PhD, I created the YouTube series CrisisDev and spoke in a panel at the UN climate change conference COP25 in Madrid on the electrification of transport.
In 2020, I founded Battery Associates, a people-centered company on a mission to accelerate sustainable battery innovation. One of our initiatives is the BatteryMBA, a 12-week CPD accredited programme training battery leaders worldwide. 
- MSP alumnus Simon Engelkes
The first edition of the Maastricht Science Programme alumni conference was organised on 29 September 2017. 
Our First Alumni Conference
Student award winners
Several Maastricht Science Programme students and alumni have won prizes during and after their study. Some of them won awards for their well-written bachelor's thesis, while others receive prizes for innovative research.
Unilever Research Prize - Charlie Maslen

"For my master's thesis project I spent about 16 months on developing microscopic crawling robots made from a soft, hydrogel material. I surely would not have achieved this without the education and, most importantly, inspiration that MSP provided. 

The recipe to make laser light-responsive is a microfluidic technique: stop-flow lithography. By focussing a laser beam on one side of the microgels, the gel expels it's water and shrinks. Removal of the laser causes it reabsorb the water and reswell. After each of these cycles the microgel will take a 'step' away from the laser. We determined the mechanism for how it achieves this and by redesigning the crawlers we can make them steerable. We use them to push 20 micron cubes along a surface and into specific positions. I hope they'll find applications in non-invasive surgery, active matter systems and micro-construction."

Darwin award - Patricia Ogger

Out of many applications send in from students all over in the Netherlands, MSP alumna Patricia and two other students were nominated for 'the Darwin' award: Best national thesis for biology. She had to present her thesis in front of a jury. Afterwards all nominees were questioned about their thesis and Patricia defended her thesis with so much in-dept knowledge and passion, she stood out best and won the award.

Dies Natalis Student Award - Jacob Windsor

MSP alumnus Jacob Windsor received the Dies Natalis student award for his bachelor's thesis on behalf of FHS (now known as the Faculty of Science and Engineering).

Best bachelor's thesis - Viktoria Obermann

Alumna Viktoria Obermann won the best bachelor's thesis. Her thesis was about 'Effects of the Supernatant of Stored Red Blood Cells on Immune Cell Function'.

Top Sector Chemistry student competition: Team SmartBite

Three MSP students, Onno Akkermans, Mitch Spronck and Pegah Keshaniyan (together they form Team SmartBite), entered the Top Sector Chemistry student competition with their project on developing a sensor to measure bruxism. The sensor they developed is smaller, thinner and more sensitive than the sensors that are currently on the market, and can be custom made.

During CHAINS 2015 (the largest scientific chemistry congress in the Netherlands), all teams got to present their project. Onno, Mitch and Pegah (aka: team SmartBite won the competition! "SmartBite has found a creative way to apply chemistry to a relevant problem. The team had a clear plan prepared with a multidisciplinary approach, and this led to good and immediately applicable results. During their presentation they were clear in their explanation and the answers to the questions of the jury were very convincing", the jury explained.