Why this programme?
Maastricht Science Programme
Our global society is facing complex challenges in diverse areas such as energy, life sciences, nutrition, materials and the transition to a more sustainable economy. Many of these challenges are interdisciplinary, requiring a new generation of scientists who are capable of looking across traditional boundaries between scientific disciplines.
Unique programme
At Maastricht Science Programme, we introduce a new approach to education in the natural sciences that is based on the Liberal Arts and Sciences tradition. Gone are the conventional disciplinary boundaries. We challenge you to create your own curriculum, chosen from a wide range of disciplines, guided by advisors and driven by your own skills, interests and ambitions.
Do you want to focus on one discipline and become an expert in that specific field or do you prefer to combine disciplines and work on multidisciplinary knowledge and skills? Everything is possible at Maastricht Science Programme. Request a brochure for more information.
Your academic advisor
As members of the Maastricht Science Programme teaching staff, our academic advisors understand both the academic environment of the programme and your future professional environment in the natural sciences. They're committed to helping you in all matters relating to your curriculum choices, course registrations, preparing for your future career, dealing with a disability and many more study-related issues.
Your academic advisor will guide you throughout your studies in making choices that fit your personal interests, ambitions and progress. Our advisors can help you answer questions such as: 
What are my talents and interests and how can I translate those into a future career?
Which courses will help me reach my goals?
Should I pursue other academic options, for example by taking courses at another faculty or another university (in the Netherlands or abroad)?
How should I prepare for a master's programme? Or the labour market?
When you are a student at Maastricht Science Programme, you will get your own dedicated academic advisor. But what can he or she do for you?
Problem-Based Learning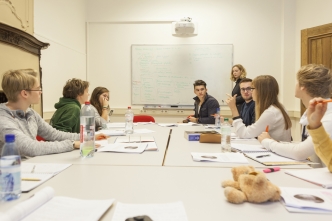 The main method of instruction for the Maastricht Science Programme is Problem-Based Learning (PBL). In a PBL environment, you work in small tutorial groups of about 12 students on scientific and social issues, usually in the form of case studies. You conduct discussions, exchange knowledge and formulate your learning goals as a group. By actively addressing real-life issues, you better grasp the theory and learn to apply your insights to various situations. The variety of perspectives enlivens the discussions and allows you to experience the true strength of your group's cultural diversity. Moreover, you gain essential skills, such as presenting your viewpoints, debating, writing academic texts and collaborating with peers.
Research-Based Learning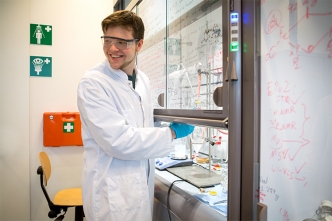 At the Maastricht Science Programme, we also use Research-Based Learning (RBL) as an integral part of your education. In RBL, you work on contemporary research topics as part of your study. During courses and skills trainings, you examine research problems for which the answers are not yet known.
You also conduct your own research in close cooperation with scientists and researchers during the project periods and the Bachelor Thesis Research. This allows you to apply your knowledge and to make your own discoveries, rather than simply learning about existing theories.
The practical aspects of your study take place at the Dubois Domein 30 and at the Brightlands Chemelot Campus, where at both facilities, Maastricht Science Programme has state-of-the-art laboratories.
Honours Research Programme
The Maastricht Science Programme offers an extracurricular programme for students who really want to be challenged during their bachelor studies and have the passion, potential and the ambition to pursue a career in research.
The programme gives high potential students the opportunity to experience research at first hand in an early stage of their studies. They will develop a research project which is embedded in a running research programme.  The student will be working on their research project for about one day a week during a period of 1.5 years. During the programme the student will advance analytical, organizational and self-reflection skills. It will extend academic knowledge and how to apply this on a research topic. During the project the student will be guided by experts in the field. Subsequently, the programme will give the student a head start in their further study and professional career.
By successfully finishing the programme the student will receive a certificate when graduating at MSP, and a recommendation letter of the Honours Research Programme coordinator or supervisor.
msp-honours-research-project.png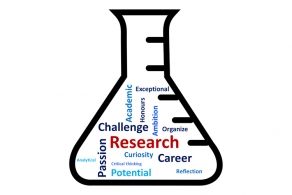 Exceptional students will also receive an additional recommendation letter from the MSP Dean.
Skills training
At Maastricht Science Programme, a lot of attention is paid to the development of your academic skills. Next to your courses, you'll select skills trainings, most of which take place at our laboratory facilities. These practicals not only allow you to experiment and conduct research, but also help you learn how to present your conclusions. This is achieved through training on data analysis, writing skills, presentation skills and argumentation.
Projects
At the end of every semester, you'll put your acquired knowledge and skills into practice during a four-week project. It will be more rewarding to seek your own answers than to search for what others have previously published.
Maastricht Science Programme (MSP) - Student Project - Spectography
Follow 6 MSP-students during their 4-week project where they will use spectroscopic techniques to tell tropical plant species apart.
Bachelor Thesis Research
Your Bachelor Thesis Research will mark the completion of your academic career at the Maastricht Science Programme. You are challenged to work on a new and exciting topic and to use the knowledge and skills you have acquired to conduct in-dept research into this topic. You will present this research along with your findings in a comprehensive thesis.
Previous students have researched a wide range of topics, such as:
Atomic force microscopey as a tool to measure dark and photoconductivity in lead chalcogenide nanocrystal thin-film solar cells
Utilising genetic algoritms as a method of improving risk within aerospace engineering design
Detecting pro-oxidant activity of plant secondary metabolites in human cancer cells
Synthesis of new biobased aromatic building blocks based on coumalate esters
Identification of long non-coding RNA's with a potential role in heart failure
International academic community
We've created a lively academic community with students and staff from all over the world. Currently, over 60 nationalities are represented in our programme. The diversity of cultural backgrounds and perspectives enlivens the small-group discussions and enriches your academic experience.
Through Problem-Based Learning and Research-Based Learning, you actively contribute to your own learning process as well as that of your peers. Close interactions with scientific researchers and industry professionals further contribute to your learning experience and prepare you for the challenges you will face in your future career.
Incoming exchange students
Maastricht Science Programme (MSP) welcomes enquiries from students who wish to study at MSP for one or two semesters as an exchange student.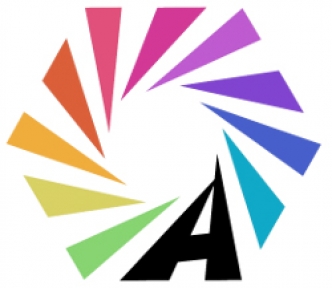 MSP student association
Aperture is MSP's student-run study association, and organises various different events outside of the MSP curriculum. Consisting of a variety of committees and clubs, Aperture provides MSP students with a broad spectrum of activities for relaxation, socialization, and academics, and attempts to make MSP a more enjoyable environment.
Brightlands Chemelot Campus laboratories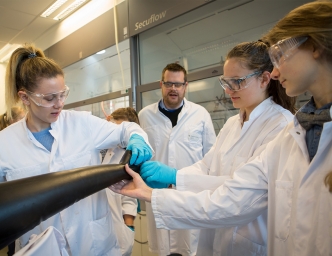 In addition to our newly renovated faculty building in Maastricht, which is used for lectures, classes and other meetings, the Maastricht Science Programme has advanced laboratories on the Dubois Domein 30 and at the Brightlands Chemelot Campus.
Both facilities are used for skills trainings and projects in chemistry, biology and physics. You can also use these laboratories for your Bachelor Thesis Research, which will allow you to do cutting-edge work in an industrial environment.
Ties with businesses
The Brightlands Chemelot Campus is an industrial site where a variety of companies, such as DSM, SABIC and Lanxess, form one of the most innovative chemical and materials communities in Europe. In this environment, which has the exchange of ideas at its heart, companies and students benefit from shared knowledge, short distances, excellent facilities and open innovation. This accelerates the development of new products and product applications.
Talk to our student ambassadors
Student interview

Interdisciplinary approach
I knew pretty early that I wanted to study biomedical engineering but wasn't keen on starting in one specialised area from the start. The MSP with its interdisciplinary approach was exactly what I was looking for. I can choose from a wide range of subjects which suit me best in putting together my curriculum. It's like cooking your personal recipe for a future career from a stew of subjects. Taking courses from different scientific fields really changes my point of view on certain matters and makes me more open-minded for what's ahead.
Varsha Vasudevan
India

Scientific experiments
I feel lucky to be in the heart of the industry at the Chemelot Campus and I like the freedom we have to do our own scientific experiments in the labs. Our lecturers and tutors teach us how to use the equipment. We're also in contact with the scientists working on the Chemelot Campus. They're often busy developing new ideas and conducting research, but there is ample opportunity to interact with them. Sometimes, students are even offered the possibility to contribute to their work or to intern at one of the companies at the Campus.
Boris Estrada
Colombia

Actively involved
I chose the MSP because you get to choose the courses that you like and study what you are good at. The academic advisor is very important because your curriculum has to fit your goals and the master's programme you want to do. I also like the PBL method because it gets you actively involved and eventually better prepared for your exams. Because the programme is in English, there are many different nationalities. You get to see the different opinions in the world which results in lively discussions!
Bo van Engelen
The Netherlands