Why this programme?
Imaging Engineering
Learn from world experts. Build your own curriculum. Access the best equipment.
Imaging is an essential tool in understanding the world around us. Imaging technologies are used in fundamental and applied research, in academia and industry alike. With the interdisciplinary master Imaging Engineering, you will drive advances in areas such as medicine, chemical engineering, surface and process chemistry, biotechnology, cell biology, and imaging equipment design.
M4I virtual tour
The programme is run by the Faculty of Science and Engineering in collaboration with the world-leading M4I-institute.
Watch the video and join on a tour of M4I's advanced facilities.
The M4i imaging MS laboratories - a virtual tour by Prof. Ron Heeren
Programme highlights

Your future, our focus
Research-based and Problem-based learning simulate the day-to-day working environment in which engineers operate, optimally preparing you for your future roles as a technical professional.

Collaborate in an international classroom
Work in culturally diverse teams with your fellow students on imaging engineering challenges.

Multidisciplinary programme
Enjoy a wide spectrum of science  and engineering courses and skills leading to a multidisciplinary  programme.

Be part of the university's research partnership Maastricht Imaging Valley
Maastricht Imaging Valley is the European spot for imaging, expertise and equipment with relevance to economy and society.

Close links to industry
Parts of the programme take place at the Brightlands Maastricht Health Campus and the Brightlands Chemelot campus - right in the middle and often in collaboration with industry.

An international community
Learn from  and become part of our ambitious international academic community, driving forward research in imaging engineering.
What will I learn during this master's
During your first year, you will start the first semester by building a solid foundation of knowledge in the disciplines of engineering, mathematics, physics and (bio)chemistry, combined into the field of Imaging Engineering.
At the beginning of the second semester, you choose  a specialisation of your choice in either:
| Instrumentation Imaging Engineering | Molecular Imaging Engineering |
| --- | --- |
| This specialisation focuses on the operation, development  and optimisation of imaging instruments and detection strategies, with a greater focus on physics for the engineering of analytical instrumentation. | This specialisation focuses on imaging techniques, capturing and visualising how molecules behave and interact, with more emphasis on applied (bio)chemistry for the advancement of molecular imaging. |
The majority of the second year will focus on the highlight of the programme: your thesis project. Your thesis project helps you build your academic profile through an integrated piece of research and/or research-based engineering, preparing you for your future career.
FSE - Imaging Engineering - Marc van Zandvoort - Interview
Focus on practical training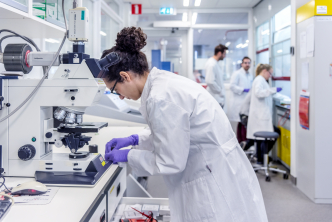 As we want you to be well prepared for your future professional career, the programme largely focusses on hands-on experience and experimentation. Which you will gain at the cutting-edge facilities of the world leading Maastricht MultiModal Molecular Imaging Institute. This is all due to our unique teaching methods, Research-Based Learning and Problem-Based Learning.
Research-Based Learning
We do more than teach you about existing scientific theories. You will learn how to apply your knowledge and make your own discoveries. You will work on solving complex research and engineering challenges, combining theory and practice. During projects, you conduct your own research in direct collaboration with scientists and researchers in academia and industry.
Problem-Based Learning
Problem-based learning, PBL, is all about working in small tutorial groups, engaging in hands-on training and attending (far) fewer lectures. Under the supervision of a tutor, your team up with 10-15 students to discuss real-life problems and challenges. It is an active and collaborative way of learning, which encourages you to develop skills that are essential for the labour market.
um-dke-phs-20210901-108-web.jpeg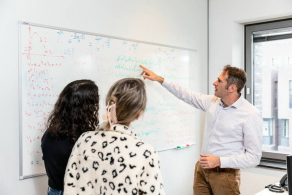 Research shows Problem-Based Learning teaches you to:
Fully absorb the subject matter
Collaborate within a diverse team
Think critically to solve problems
Direct your own learning and work independently
Develop motivation to study and tackle challenges
Feel comfortable with public speaking