Why this programme?
Biobased Materials
Find inspiration in nature. Learn from experts. Build a sustainable future.
The world urgently needs scientists who can design new fabrication methods and sustainable materials. Scientists need a solid understanding of different disciplines and the skills to develop solutions that will help us to facilitate the transition into a circular economy and society. Our interdisciplinary master Biobased Materials will fully prepare you to take on your expert role in this transition. The programme integrates biology, biotechnology, chemistry, materials science, engineering and sustainability, providing you with a solid knowledge basis.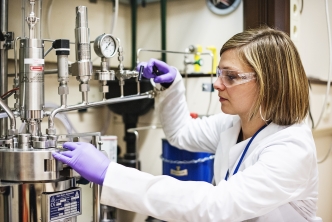 In this programme you could explore questions such as:
Can we use biobased building blocks to move away from fossil fuels? 
How can we produce biodegradable plastics to halt microplastic pollution? 
How can we  synthesize new biobased polymers and use them to engineer green materials from biological resources?
Can we make advanced functional biobased materials that are easily recycled after use, as part of the circular economy?
Can we mimic natural products like spider's silk to create biocompatible wound dressings?
Programme highlights

Focused on your future career
Prepare for modern work practices, through "hands on" problem-based learning and research-based learning

Close links to industry
Direct access to the Brightlands Chemelot Campus, the chemistry hub in the region which enables you to directly collaborate with industry partners and possibly even meet your future employer. 

Classroom collaboration
Work in international teams with your fellow students on interdisciplinary biobased materials challenges.

Multidisciplinary programme
Enjoy a wide spectrum of science courses and skills leading to an interdisciplinary programme

An international community
Learn from and be part of our ambitious academic community, at the Aachen-Maastricht Institute for Biobased Materials, a European, cross-border research institute, which is driving forward innovation in sustainable materials
What will I learn during this master's
The programme offers a balanced combination of biology, chemistry and material science that delivers integrated fundamental knowledge and skills to enable you to design and manufacture the functional materials for a sustainable future of our high-tech society.
We will train you to: 
Engineer green materials and biobased replacements from biomass
Design and optimise material production methods at every step along the value chain, from biomass up to applications
Use modern sustainable production technologies for a circular economy
You will start in your first year with our compulsory courses which will give you a solid foundation of knowledge and skills. Then it's time to put your knowledge to the experiment with a research project. You'll work on a real-life research project in a small group, often in collaboration with the industry.  After the first half of the year, you have the opportunity to tailor your curriculum to your own interests with electives. But no worries here, we will help you make these choices.  You'll finish the year with an additional research project.  
Most of the second year will focus on the highlight of the programme: your thesis project. You will do your thesis project in collaboration with a research institute or company of your choice and we will guide you along the way. 
What our students think 
Find out why our student Bas chose the master's Biobased Materials and what he likes most about the programme in the video.
Meet our students
Our students are happy to answer all your questions about the programme and about (student)life in Maastricht.
Why I chose the master MSc Biobased Materials @ Maastricht University - Student Bas Heitzer
Focus on practical training
We want you to be well-prepared for your future professional career, so our programme largely focuses on hands-on experience and experimentation. Our two unique methods of teaching prepare you for a career in academia or industry. 
Research-Based Learning
We do more than teach you about existing scientific theories
You will work on current scientific research problems
During projects, you conduct your own research, collaborating with other scientists and researchers
You will learn how to apply your knowledge and make your own discoveries
Problem-Based Learning
Problem-based learning prepares you for the real world of scientific work
You collaborate in small tutorial groups of around 10-15 students, mimicking the multidisciplinary teams found in companies and research teams
You have fewer lectures and more hands-on training, tackling real-life scientific challenges
This active method of learning, supervised by a tutor or lecturer, will improve your life-long learning and professional skills
Research shows problem-based learning teaches you to:
Fully absorb the subject matter
Collaborate well
Think critically to solve problems
Direct your own learning and work independently
Develop motivation to study and tackle challenges
Feel comfortable with public speaking