Why this programme?
University College Venlo
Does consumption of fatty fish really make you smarter? Can food be used as medicine? Why is it so difficult to change our behavior, despite our best intentions to live more healthy? What are and how can we develop sustainable supply chains?
At UCV, you can study such questions and many more related to Health, Nutrition and Business in an close-knit interdisciplinary matter in a lively academic community with students and staff from all over the world. The diversity of cultural backgrounds and perspectives enlivens the small-group discussions and enriches your academic experience.
Why University College Venlo?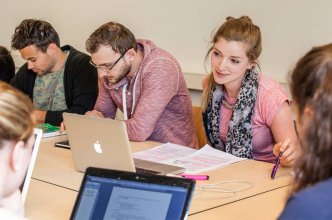 UCV in short
design your own curriculum
small-scale, personalised education
all courses taught in English
international academic community
close cooperation with industry
On-campus student studios