Why this programme?
Global Studies
Global Studies trains you to understand and develop solutions for complex global issues. The programme is structured around five themes, each of which contains knowledge, theories, methods and academic & professional skills from multiple disciplines:
Environment & Economy
Migration & Citizenship
Tolerance & Beliefs
Peace & Justice
21st Century Learning
The themes are preceded by an introductory semester that introduces you to the field of Global Studies. In your final year, you will put your expertise to the test with a local or international field study, write an interdisciplinary Bachelor's thesis, and have a chance to develop an intervention for a societal problem presented to you by an NGO, government agency, firm or a school. You will even have the opportunity to teach some of your experiences to first and second year students.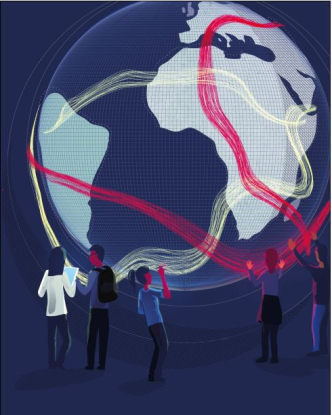 Crossing borders
In this programme you will learn to cross borders in several ways. You will: cross disciplinary boundaries by bridging disciplines, cross Euro-centric perspectives by reading authors from other locations, conduct a local or international field study and conduct an interdisciplinary final thesis.
Bridging the Disciplines
Complex, global problems require solutions that are rooted in multiple disciplines. Global Studies trains you to integrate knowledge and skills that pertain to the natural and technical sciences (environmental science, data science), social sciences (development geography, political economy, governance, law, sociology, economics, international relations and technology studies), life sciences (public health, psychology), and humanities (anthropology, history and philosophy). All semesters and themes are co-developed and co-taught by scholars from at least three disciplines. Studying with these experts, you will:
Build an understanding of how individual disciplines look at particular questions
Debate how the theories and assumptions of different disciplines can be connected to arrive at a richer view
Learn and practice research methods that are used by different disciplines to allow you to collect your own data, perform strong analyses and arrive at relevant conclusions
Formulate evidence-based advice and recommendations for complex problems
Develop your skill-set as a future professional, academic and citizen of the world
Perspectives from around the Globe
To ensure that the programme offers a truly global focus in which perspectives from the Global Majority get as much attention as other perspectives, each course will include theories and concepts developed by non-Western scholars that will be compared with those developed in the West.
Field Study 
During the theme on Peace and Justice, you will have the opportunity to go on a month-long field study, exploring and learning about a local relevant problem at your chosen destination (for example in Colombia, Mozambique, Cyprus, Uruguay, Thailand and The Hague). Together with a small group of your fellow students, accompanied by an expert and hosted by a local partner, you will have the opportunity to study a complex issue, discover local solutions and practice your own skills as a global citizen.
Bachelor's Thesis
Your final piece of work in BSc Global Studies will be to write a Bachelor's Thesis on a topic of your choice — perhaps a deepening and continuation of your field study, a study on a target of the Sustainable Development Goals, or a topic that resonates with the final semester-long theme, 21st Century Learning? Your thesis will integrate expertise from at least two disciplines and serves as a bridge to the next step in your career.
Global Studies students participate in Migration Governance summer school
During the first week of November 2021, 3 Global Studies students were invited to join an international summer school on "Migration Governance at the Local Level" hosted by the University of Applied Sciences of Ludwigsburg, Germany. They enjoyed a really great and well-organised week, full of learning, socialising and networking.
They also went on an excursion to Strasbourg to visit the Council of Europe.
gs_students_ludwigshaven.jpeg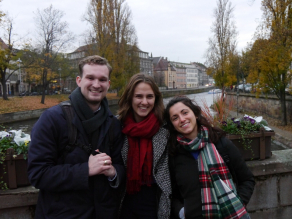 International classroom
The fostering of a truly international classroom is central to the aims of Global Studies. You will work together with students with a diversity of cultural and socio-economic backgrounds in and outside the classroom. This will help you acquire competencies in two of the central aims of the BSc Global Studies: Global Citizenship and Interpersonal Competencies related to intercultural and transdisciplinary communication and understanding. 
Skills
You will be able to develop skills and competencies in the following domains:
Methodological: the ability to acquire and apply new knowledge
Social: the ability to deal with other people in a respectful and empathetic way
Communicative: the ability to create new and maintain existing relationships, to express yourself clearly and precisely
Personal: the ability to reflect on yourself and develop yourself
Scientific: you will have relevant knowledge of academic theories and models
Professional: you will be proficient in business and persuasive writing,presentation skills, collaborative working, creative problem-solving
Problem-Based Learning
You will be taught using Problem-Based Learning (PBL) that Maastricht University is famous for. In small tutorial groups with a maximum of 12 students, you will analyse challenging questions and cases. Together with your group, you will set to work on weekly problems, seek further knowledge on the problem and formulate your answers. Instructors only give help as needed, allowing you to develop independence and the problem-solving skills you will need in your career.
This programme will also experiment with digital forms of education within the PBL environment and with the support of Maastricht University's Institute for Education Innovation (EDLAB). This will give you hands-on experience with the advantages and disadvantages of digitally-mediated teaching and learning methods.
Maastricht University students on Problem-Based Learning
Working with stakeholders
Throughout the programme you will learn methods and skills for working on projects with and for stakeholders such as NGOs, government agencies, firms and schools. This culminates with a real-life experience in the last semester in which you will work together with a stakeholder on an issue they face. You will practice the academic and professional skills, project-based methods and knowledge that you will have acquired throughout the programme, to analyse the stakeholder's issue and work together with them to develop a relevant and realistic intervention.