Why this programme?
Arts and Culture
In the bachelor's programme in Arts and Culture you will study culture from a variety of perspectives. To understand the complexity of current society, you will integrate insights from philosophy, history, science and technology studies, art and literature studies. This will help you to: 
Develop an understanding of the historical roots of modern culture 
Reflect philosophically on contemporary issues
Develop the analytical capacity to connect diverse scholarly perspectives 
Gain in-depth knowledge of the role of the arts, science, technology, media and politics in our culture 
Which qualities will help you achieve this?
Broad interests and an inquisitive mind
A love of reading and writing
Ambition to study both independently and in collaboration with peers
The Elementary Phase
The bachelor's programme in Arts and Culture is characterised by a strong logic and courses systematically build upon one another. It is divided into an elementary phase and a graduation phase, which each take one and a half years. The elementary phase has a chronological setup, starting from Antiquity and ending in the early 21st century. In this phase, you'll gain a profound knowledge of the historical roots of modern society and culture.
The programme has a strong emphasis on helping you develop research and writing skills. An important element of the programme is a learning trajectory in which you write increasingly longer and more complex papers. This culminates in writing your bachelor's thesis in your third year.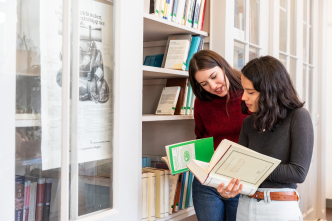 For this programme you will need:
A broad interest in Western culture and its historical roots
An interest in our interdisciplinary approach
Self-discipline and excellent time-management skills
A critical mind with a broad academic orientation
Good knowledge of the English language
To enjoy interacting with students from different nationalities
To be attracted to the small-scale and interactive character of the teaching system