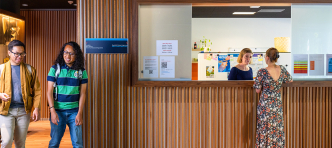 Need more information?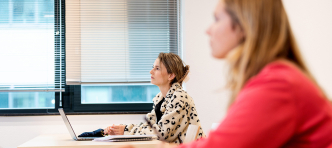 Meet us
Experience the programme first-hand by visiting our online and in-person information activities.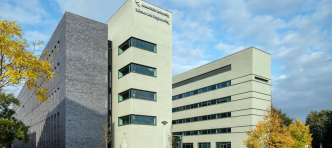 Address
Faculty of Science and Engineering
Paul-Henri Spaaklaan 1
6229 EN, Maastricht
Follow our students on Instagram
Tabea Heusel, student ambassador Artificial Intelligence @um_artificialintelligence
"Are you wondering what life as an AI master's student in Maastricht is like? Follow me in my day-to-day life and get to know the project-centred programme, modern campus and beautiful city!"
Do you have a question about Artificial Intelligence? Send Tabea a DM!
In January 2020, we moved into our brand new location: Paul-Henri Spaaklaan 1, 6229 EN Maastricht... Or as we call it, PHS1. 

We house both our research and education in PHS1, which has been completely refurbished according to our needs. Our department covers 5 floors with 21 fully equipped project rooms for you to work in, 6 lecture halls and a big space - with soccer table - for everyone to hang out together. We also have a large lab space and workshop for robotics research. Click through the photos to get an impression of our building. View PHS1 on the map

Second floor, project rooms
We start off the tour in one of the project rooms. At the Department of Advanced Computing Sciences, you'll work on two big projects per year alongside your courses - these project rooms allow you and your project group of 5-7 students to work in style (and peace). 

Each project room comes equipped with a plug-and-play flatscreen to hook up to a laptop and a whiteboard to write on.

Second floor: yet more project rooms
We have a total of 21 project rooms spread out over the first and second floor. This is a view from inside one of them.

On these pictures you can still wave to other project groups through the glass walls, but we've installed some subtle privacy film by now. :-)

First floor, common room
The common room is meant for you to relax in. There's couches to nap on and table soccer to play.

First floor, Student Affairs Office
Our in-house Student Affairs Office handles all your education-related needs: from your admission to your schedules and your diploma.

You can drop by daily from 10.00-11.00 and from 15.00-16.00 for questions and/or to empty the sweets jar. 

First floor, corridor/kitchen area
In the first and second floor corridors, you can find small kitchens (equipped with microwave, oven and coffee machine) for you to use. 

Ground floor, main hallway
We're now in the hallway on the ground floor.

From here, you have access to four out of six lecture halls (which sounds more intimidating than it is - we're not into mass lectures).

Ground floor, large lecture hall C0.020
This picture is taken from the back of the largest lecture hall we have. Whether lecturers are giving a presentation or writing down formulas, everything is copied onto the screens in the center and to the left and right of the hall. 

Elevator shaft
Zip through the building using the elevators... Or simply take the stairs. There's a total of five floors in our building; that's counting the ground floor, but not the basement where you can safely park your bike.

Fourth floor, office spaces
You can mostly find researchers and lecturers on this floor. You won't have to leave the building to drop by their offices!

Second floor, office spaces
Apart from project rooms, you can find more research-related spaces on the 2nd floor. Here's a peek into the offices of The Digital Ludeme Project, which has set out to reconstruct the past 5000 years of human strategy games using Artificial Intelligence.