Computer Science
Your future
Computers are everywhere. That means computer scientists are everywhere too! As a result, studying Computer Science gives you excellent prospects on the labour market.
In 2022, the Dutch Keuzegids reported that 93% of Computer Science graduates found a job within 1.5 years of graduating with a master's degree in this field.
You can find people with an academic Computer Science background working as:
Software developer
Security specialist
Software engineer
App developer
Software architect
Ethical hacker
Software project manager
Graduates work on applications for a wide range of fields: from healthcare to finance, from scientific research to retail, from logistics to business, and of course in the IT sector itself.
fse-computerscience-graduates1-test.jpg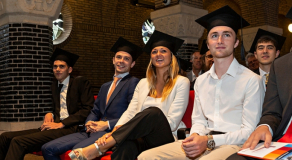 Master's programmes
It is possible to enter the labour market straight after your bachelor's degree. However, many students choose to pursue a master's degree.
Your bachelor's degree in Computer Science will give you access to Computer Science master's programmes at top institutions both in the Netherlands and abroad. Depending on the specific programme, you may also pursue a master's degree in a related field like Software Engineering, Bioinformatics, Cybersecurity, Cloud Computing, Data Science, and Artificial Intelligence.
Maastricht University offers two complementary master's programmes:
Alumni of the Department of Advanced Computing Sciences
Although Computer Science is a new study programme, we are not new to teaching in this field. If you choose to study Computer Science at Maastricht University, you will be taught by experienced lecturers from the Department of Advanced Computing Sciences.
Previous alumni of the Department of Advanced Computing Sciences have gone on to work for large tech companies like Google and Meta, became programmers of rocket and satellite software, started their own businesses, and much more.
Meet some of the graduates of the department's class of 2019
fse-computerscience-graduates2.jpg