Business Analytics
Your future
Your experience with formulating and analysing data-driven research questions will also be extremely valuable if you choose to pursue a Master's or apply to the job market immediately after this bachelor programme.
Master's programmes
The BSc Business Analytics programme will provide a strong foundation for the following UM master's programmes:
Data Science for Decision Making
Financial Economics
Business Intelligence & Smart Services
Econometrics & Operations Research
International Business
Feel like branching out? Other Maastricht programmes will welcome you as well, provided you fulfill any additional admission requirements. Maastricht University is highly regarded across Europe and around the world, and your bachelor's programme will open doors to many master's programmes.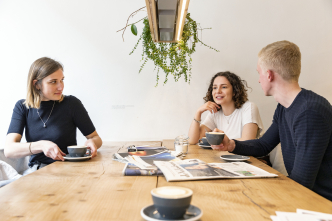 To study more or start working?
By the time you finish this bachelor's programme, you'll have spent three years sharpening your academic skills and mastering the theoretical content. At the same time, you'll also have got the opportunity to experience different aspects of your perspective future career and build your network. Whether you choose further study or the labour market, you'll have the right foundation and tools to pursue your goals.