Why this programme?
Economics and Business Economics
Economics looks at broader problems that relate to individuals, governments, and national as well as international economies. It's a science that examines how markets work, how businesses and consumers behave, and how legislative and regulatory changes impact businesses and consumers. Business Economics covers economic problems within companies and how to solve them. You'll develop the skills to examine economic issues from all angles and to come up with appropriate solutions. 
In the Economics and Business Economics programme, you'll analyse business problems using tools from both economics and business:
Economics: quantitative skills, economic modelling, information management, knowledge management, network economics
Business: strategy, finance, accounting, banking, managerial economics
Your first year
All students will follow the same courses in the first year. These cover a broad range of business and economics topics such as finance, accounting, international economic relations, micro and macroeconomics, organisation and marketing as well as skills such as presentation, communication and quantitative skills. This will allow you to make a well-informed decision about which specialisation you're interested in pursuing in your second and third years.
What you'll actually do:
Learn by doing in small, intercultural teams
Address the sorts of problems you'll face in your career, in a study setting designed to resemble a real working environment
Develop your knowledge of marketing, economics, finance and management
Enhance your practical skills in mathematics, statistics and computer science
Learn how to apply the insights you gain to run businesses more effectively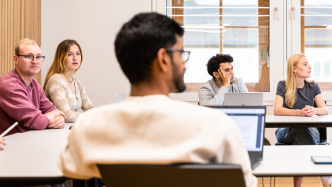 You'll like this study if you…
like discussing politics and current affairs
enjoy analysing problems in business and economics 
like working on practical problems in an international team