Specialisations
Economics and Business Economics
In your first year, you will take the same courses as all other Economics and Business Economics students, ranging from Finance to Accounting to International Economic Relations. This gives you a solid footing from which to choose one of four specialisations for your second and third years. In these specialisation years, you will take core courses relating to your specialisation, as well as electives of your own choosing. You might also spend a semester studying abroad or choose to do an internship as well.
You can choose one of four specialisations, these start in your second year of the programme: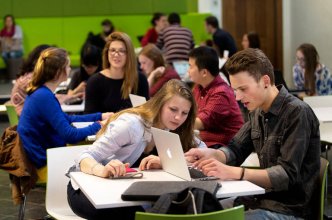 Emerging Markets
What's it all about?
Most of the world's economic growth is taking place in rising economic powers such as the BRICs (Brazil, Russia, India, China) and other countries in Asia, Latin America, Africa and Eastern Europe. In this specialisation, you'll use a multi-disciplinary approach to study these emerging economies and the new business opportunities associated with their growth. You'll learn what drives the high growth in these markets, how they are evolving, where the next business opportunities will be, and how to make responsible management and policy decisions in these rapidly changing and sometimes fragile economies.
What you'll actually do:
work in small teams on real-world cases, together with students from around the world
develop strong analytical abilities and use them to solve complex business and economics problems in emerging markets
learn how to work with people from other cultures through an internship in an emerging economy
choose the focus of your studies by designing your own curriculum
develop a deep understanding of the way culture and politics shape the business environment in rapidly developing countries
You'll like this specialisation if you…
have strong analytical skills
like to interact with people from different cultures and with different backgrounds
enjoy working in fast-paced environments and like the challenge of a high workload
want to study business and economics from the perspective of rapidly developing countries
are interested in the complex relationships between culture, politics and business
Emerging Markets specialisation at Maastricht University
Economics
What's it all about?
The specialisation in Economics combines sociology and psychology with economics, aiming to produce professionals who are flexible, adaptable and internationally oriented. You also look at creative ways to approach real issues as diverse as: 
How does individual consumer behaviour impact the economy?
How do government policies and economic developments affect individual consumer behaviour?
How can governments promote wage equality?
How should the ageing population affect how countries budget?
How does the global financial crisis effect consumer behaviour?
You'll like this specialisation if you …
 are interested in analysing political and social problems in depth
 see the economic implications of current events
 want to apply socio-economic theory to political and economic problems
 like to examine economic problems from many different angles
 want to understand the role of international organisations in economics
What you'll actually do:
gain insight into the mechanisms behind global markets and the role of the state in the economy
apply knowledge from a fascinating cross-section of disciplines
develop strong analytical abilities – a major plus for your career! – by helping staff conduct high-profile research
master the practical tools and skills to analyse economic policy, growth, etc.
pursue your own educational and career goals by choosing your own problems to study, elective courses and study abroad destination
Economics and Management of Information
What's it all about?
No other bachelor's programme in the Netherlands combines information technology (IT) with business and economics like the Economics and Management of Information specialisation. And nothing could be more timely, given that IT and new media are crucial for doing business in today's global economy. You'll look at questions like:
 How can companies use IT to stay ahead of the competition?
 How do governments stimulate innovation?
 And what effect does all this have on us as individuals?
You'll like this specialisation if you …
 are fascinated by economics and new technologies
 see opportunities in technological change and innovation
 are interested in the effect of market regulations on the information society
 want to examine the legal, social and ethical aspects of IT
 are looking for an interdisciplinary economics study
What you'll actually do:
learn how to apply the latest technologies to business and how to predict their economic consequences
address real-life case studies for companies like Google and Microsoft, involving issues such as illegal music downloads
gain insights into the economic, social and environmental impact of IT
learn to organise information to enhance its value for businesses
gain practical knowledge in economics, business and management as well as IT
International Business Economics
What's it all about?
The specialisation gives you a solid foundation in the two key pillars of modern commerce: economics and business. 
You compare economic models with real-life cases of running a business, to find out what's really going on behind the scenes of the business world.
Economics is all about the use of resources in local, national and international markets:
Why do economies work the way they do?
How do they respond to different policies and events, such as austerity measures or the Russian involvement in Ukraine?
Business, meanwhile, brings the focus down to the level of the company:
 How do individual businesses respond to policies and events?
 How can their responses be improved?
 
You'll like this if you …
 like to experience other cultures and speak foreign languages
 have strong analytical qualities
 are interested in investigating the underlying causes of economic events
 want to get to the bottom of complex business problems
What you'll actually do:
 develop knowledge in economics, strategy, finance and accounting
 build your skills in quantitative analysis and economic modelling
 apply your new knowledge and skills to practical problems in business and economics
 learn to communicate confidently and successfully with your peers and the wider world
 gain a top business and economic education that employers have confidence in