Why this programme?
Econometrics & Operations Research
Econometricians use their mathematical and statistical expertise to sift through mountains of economic data in order to find trends. This ability has an enormous number of applications for business, government and research throughout the world, including:
making companies run smoothly
increasing profit sustainably
predicting financial trends
understanding how people's behaviour affects the market
dealing with wider economic issues and crises 
All of these practical applications make Economics and Operations Research a booming field with huge prospects for graduates. The School of Business and Economics not only helps you become a well-trained econometrician, but we also immerse you in an interpersonal, intercultural and international setting that gives you an extra edge in an increasingly globalised world.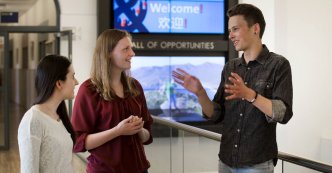 You'll like this study if you...
like the idea of combining economics and computer science with management and statistical techniques to make businesses run just right
Your profile
The Econometrics and Operations Research programme is for analytically minded students who enjoy applied mathematics and statistics. It helps if you have an affinity for finding way to simplify complex problems, have good communication skills, and are able to tackle problems in a group. Given the international nature of the programme, you should be looking for a career in an international environment.
Econometrics and Operations Research
What you'll actually do:
solve real-life economic and finance problems using knowledge and skills from interdisciplinary fields
apply economic and mathematical models to issues like inflation, investment and unemployment
come up with innovative ways to make businesses more efficient
work in small tutorial groups, with personal attention from your tutor
gain practical experience through involvement in departmental research
You'll develop the practical skills you need in the workplace by taking skills trainings tailored to your courses. These include training on research methods, using software for statistical analysis and presenting your findings. 
Problem Based Learning
Problem-Based Learning (PBL) is an innovative, student-centred instructional method widely used at Maastricht University. You will work in small tutorial groups of 12 to 15 students, and collaboratively seek practical solutions to real-world problems. Instructors act as facilitators, giving help as it's needed. This allows you to build independence and develop research skills. As opposed to lectures – which are still the primary teaching method at most universities – PBL is dynamic, requiring active participation in a variety of tasks such as:
deciding how to approach a given problem
setting learning goals
organising tasks to achieve those goals
sharing your findings with one another
um-sbe-bachelors-20210928-047.jpg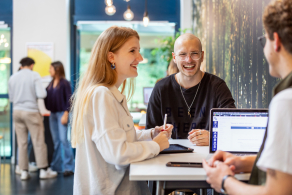 With PBL, you'll develop the practical skills you need in the workplace by taking skills trainings tailored to your courses. 
Skill trainings you might take include: 
quantitative methods
managing takeovers
interview skills and techniques
customer relations management
country risk analysis
Maastricht University students on Problem-Based Learning
Study abroad
In the Econometrics and Operations Research programme, you'll be required to study abroad for at least half a year. This gives you the opportunity to expand your knowledge of other cultures and practices. The School has an extensive network of more than 130 partner universities around the world, in countries including Australia, Singapore, South Africa, the United States, and throughout Europe. The semester abroad at a partner university is a compulsory part of the curriculum. Depending on your study programme, you go on exchange either in the first or in the second semester of your third year of your bachelor's.
On a yearly base, up to 750 SBE students spend part of their studies abroad within an exchange programme, and about 740 exchange students visit SBE.​ 
um-sbe-20190412-245.jpg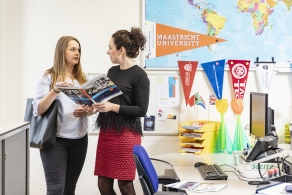 The International Classroom
As the world becomes increasingly globalised, those doing business must be able to work with people from many different cultural backgrounds. Students and staff come from all over Europe and the rest of the world, and Maastricht itself is at an international crossroads between the Netherlands, Belgium and Germany. An additional 450 exchange students from 39 different countries come to study at our faculty every year. Such diversity creates a strong international atmosphere. Much of the research carried out by the School of Business and Economics is focused on international economic issues.
Take your degree anywhere
The Maastricht University School of Business and Economics has the 'Triple Crown' of accreditations: from the American AASCB, the British AMBA and the European-wide EQUIS. This is invaluable if you plan on doing postgraduate education abroad. Only 1% of business schools worldwide have achieved this honour, and employers know that the Triple Crown status means they're getting the best graduates with the best education from a top School.
triple-crown-sbe.jpg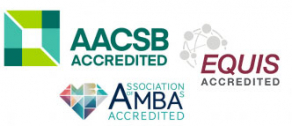 Internships
Within this bachelor's programme, there are two internship possibilities: a curricular and an extracurricular internship. The curricular internship involves replacing part of the programme (4 ECTS) with an internship. The internship should be between 6 and 14 weeks full-time. Most students opt for an internship during the summer break, either in the second or third year. The extracurricular internship is an addition to your bachelor's programme and does not replace any part of your programme curriculum. The internship should be between 8 and 26 weeks full-time.
To assist you in finding an internship, SBE maintains a database with internship opportunities for each programme. The SBE Internship Office is also on hand for guidance and counselling.
Skills trainings
You'll develop the practical skills you need in the workplace by taking skills trainings tailored to your courses. These include training on research methods, using software for statistical analysis and presenting your findings. 
MaRBLe excellence programme
Through the Maastricht Research Based Learning programme, MaRBLe for short, we offer talented third-year bachelor's students the opportunity to conduct their own research project. You will be guided by experienced academic staff who will help you further develop your critical thinking and research skills. This will help prepare you for a career in scientific research or research positions in business. 
Reinforce your mathematics skills
At Maastricht University, we want to offer all the support we can to help you succeed. Students who discontinue economics programmes often cite difficulties with the level of mathematics required for the coursework. To prevent this, we offer an online preparatory course during the summer that helps to reinforce your math skills. Although the course is not obligatory, we recommend that you take it before starting the programme. The assessment test will help you determine your skill level before registering for the course.  
The online preparatory course is a supplement to your education and cannot be used to meet the mathematics requirements for admission to this programme.
 More about the online mathematics preparatory course