European Public Affairs
Your future
As an EPA graduate, you will be well-qualified for the professional world, having acquired a thorough understanding of the complex EU policy making processes and exceptional experience in identifying, analysing, tackling and communicating complex problems in an international environment.
Career prospects
You will be an academic professional who:
Can understand and critically evaluate the complex system of European governance
Is capable of understanding and analysing contemporary EU policy problems
Is capable of researching and presenting solutions for such policy problems
Has well developed know-how for strategically influencing the EU policy process to address such policy problems
Your practical skills will not be your only asset. Given that around 90% of EPA students and many staff members come from abroad, you will also be internationally orientated. In fact, about one third of our graduates are offered a job at their internship organisation before they've even graduated.
From all EPA graduates 98% is employed, 1% is working as a PhD Candidate and 1% is doing a second master elsewhere. 
Most of our graduates go on to find work in:
Governmental institutions (Information Officer, Policy Advisor)
Private firms performing 'privatised' government functions (Project Manager, EU Affairs Officer)
Public affairs divisions of commercial corporations (Communications Consultant)
Organisations with European or transnational missions (Partnership manager, Political Administrator)
Non-profit organisations (Association manager)
Consulting and lobbying (International Consultant)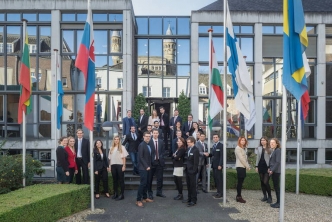 Many of our graduates work in high-level agencies and companies, such as:
UM Campus Brussels
Shell
Council of the European Union
Google
United Nations
European Parliament
Harvard University