University College Maastricht
Your future
After, ordinarily, three years of studying at UCM and after obtaining 180 ECTS, you have qualified for an internationally recognised Bachelor of Arts or Bachelor of Science degree. After graduating, you can either continue your academic career and apply to master's programmes in the Netherlands or abroad, or you can enter the job market.
Graduate programme possibilities
Your self-designed curriculum determines which master's programmes you qualify for. Your academic advisor will help you compose a curriculum that matches the admissions requirements for your desired master's programme.
91% of UCM graduates have enrolled in a master's programmes at a wide range of universities, including highly prestigious institutions such as:
London School of Economics and Political Sciences (LSE)
University of Oxford
University College London (UCL)
Graduate Institute of International Development Studies Geneva
University of Edinburgh
Hertie School of Governance (Berlin)
King's College London
Humboldt University of Berlin
University of Cambridge
Free University Berlin
KU Leuven
You can download a full list below, to find out more about which universities or which study programmes UCM graduates attended.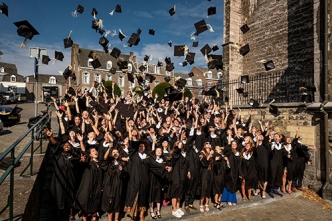 Alumni facts
92% would attend UCM again
91% pursued graduate education
73% were accepted into their first-choice programme
24% graduated from one of the top 50 universities in the world
75% volunteered in a (student) organisation
25% had a study-related side job
25% did an internship
Most common fields of study after UCM
Graduates of 2018: Then and now

Cato Boeschoten
Now:
Completed a pre-master programme and currently following the Clinical Psychology master programme at Leiden University
Studying at UCM made me more aware of my surroundings, both environmentally and socially. Spending so much time at a small faculty like UCM made it easier to look out for one another, and I admire that the focus on mental health and the environment was such a big part of the culture. I still try to be aware of how people around me are doing, and I think the blue letters on the wall in the UCM courtyard definitely play a role in that.
Then:
Taking a gap year and planning to do a master's in Forensic or Clinical Psychology
For me, the most valuable thing I learned is to listen better, convey other people's words into a message, form my own opinion about this message and subsequently answer thoroughly and reflectively.

Gaëlle Aminata Colin
Now:
Obtained master's degree in Sociology (Gender and Sexuality Studies) at Ecole de Hautes Etudes en Sciences Sociales in Paris, France. Currently a Junior Teaching Fellow at University College Maastricht
UCM introduced me to research, it gave me the curiosity and the research mindset; I love research and it is at the core of my career choices.
Then:
Master's programme in Sociology/Anthropology - Migration and Inter-ethnic relationships​ | Paris Diderot University - Paris 7
In five years, I hope that I will have gone further in the socially engaged research that I started at UCM and that I will find a community to support me and stimulate me in this research. 

Florentine Friedrich
Now:
Research Assistant to PhD student Tom Raster (Supervisor Thomas Piketty)
My time at UCM also impacted my personal development. At UCM I had the opportunity to work as a student representative. I was lucky enough to take part in discussions with the European Commission, guided a debate with the Dutch minister of education, and moderated the opening of the academic year in 2018. This work really inspired my interest in communicating academic topics and debates. My hope is to work as a journalist and documentarian for economic subject matters after completing a PhD.
Then:
Internships in: Economic research, journalism, documentary film making
UCM gave me the confidence and self-assurance to take me time, rather than rush into the next best opportunity. In five years I am hope to have a master's degree and perhaps be on my way to receiving a PhD.

Sebastiaan Olislagers
Now:
Completing Crisis & Security Management master at Leiden University, Faculty of Governance & Global Affairs, and Law and Politics of International Security master at VU University Amsterdam, Faculty of Law
UCM most definitely equipped me with the skills I needed after graduation. I was able to quickly adapt to 'new' academic fields and university environments, as well as to a professional working environment. Thanks to the interdisciplinary UCM curriculum, it was relatively easy for me to adapt to the field of law, after having studied political science and international relations at UCM.
Then:
Planning to pursue a Master's programme in Security studies ​
In five years from now, I would love to have finished the diplomat training programme of the Ministry of Foreign Affairs, after of course completing a master's degree.

Jules Bracke
Dual degree in International relations | Sciences Po Paris and Peking University
I would love to be active in the field of international relations and specifically the field of diplomacy. If I am able to work in this field and bring nations closer to each other through peaceful means and diplomacy, I would be very happy.
Career possibilities
As UCM allows you to design your own curriculum to suit your individual interests, talents and ambitions, you have an almost unlimited range of future career possibilities. UCM graduates have gone on to a wide variety of professional careers, in both the Netherlands and abroad, including:
Management consultant
Researcher
Government policy advisor
Assistant to an EU Commissioner
Think tank member
Entrepreneur
Industrial designer
Pharmacologist
Stock trader
NGO project coordinator
Forensic psychologist
Theater programmer
Museum curator
Education innovator
With careful planning, you can take the courses required to be admitted to most master's programmes. However, some programmes, such as Dutch Law and Clinical Psychology, are likely to have additional requirements.  
Top countries where graduates work after UCM


Marie Zwetsloot
PhD Candidate, Cornell University (USA)
Master's degree: Soil Science, Cornell University
I am currently completing my PhD research on soil and root-facilitated carbon cycling in forest ecosystems under climate change at Cornell University in the United States.
My experience at UCM has given me strong critical thinking and writing skills, which I still benefit from on a daily basis. I am also very thankful for the diversity of subjects I studied during my time at UCM. This interdisciplinary foundation allows me to more easily collaborate and communicate with scientists, policy makers and stakeholders across fields and countries so that we can together solve complex environmental problems.

Timo Müller
Human Rights Watch Researcher
Master's degree: International Affairs, The New School
Some ten years upon graduation, I still draw on the teachings at UCM and look fondly back on my experience. UCM taught me how to work in a multicultural team, acquire and analyze large swathes of material in a short amount of time, and write in a concise manner.
These skills proved essential in my capacity as a researcher and office leader for Human Rights Watch in the Democratic Republic of Congo, where I traveled to disparate parts of the country to document war crimes, crimes against humanity and political repression. Above all, UCM taught me how to think and has fostered a deep love for education.
Much of what I've learnt at UCM has truly opened my eyes to the forces that shape our world. The impact the school had on me is immeasurable. It's a wonderful place.

Iona Ebben
Senior Policy Officer, Ministry of Foreign Affairs (NL)
Master's degrees: European Law, Maastricht University | International Peace and Security, Kings College London
I chose University College Maastricht because I wanted to do it all: law, politics, international relations, European Studies. And at UCM you can combine all your interests and build a strong academic foundation for your future.
In my view UCM offers students the perfect stepping stone to pursue a master's degree in a wide variety of subjects, as well as a solid multidisciplinary base for an international career. Thanks to problem based learning all students have a collaborative approach which creates a warm and social academic environment. Both the students and staff at UCM are intelligent, hardworking individuals who all have a passion for a particular subject.
There is also plenty of opportunity to engage in extracurricular activities which helps you build relevant skills.

Marelle van Beerschoten
Founder / Managing Director:  Digital Shapers
Master's degrees: Master in Business Studies | University of Amsterdam
Before moving to Maastricht I spent a gap year studying languages abroad. Upon return I preferred to study in an international environment, which I found at University College Maastricht. UCM was also personal and dedicated to its students, and it offered an exciting curriculum which was highly rated.
Upon finishing my master's, I started a Mobile App agency. I'm still an entrepreneur now, working on a different company called Digital Shapers, with which I help organisations with digital transformation, working on data driven change, digital innovation and a digital workforce.
UCM fulfilled its promises and was a stepping-stone to an international career. It gave me a fair understanding of important driving forces in the world, in a variety of areas such as politics, business, law, sustainability, philosophy, and history. Not only the curriculum, but also the problem-based learning method, and the culture at UCM have made my overall experience highly positive. Most importantly, it has given me trust to pursue my ambitions as an entrepreneur; without a doubt I would always study at UCM again. 

Davor Davidovikj
Software Developer at Sapienza Consulting
One of the things I appreciate the most about UCM is that it taught me about the importance of diversifying your skills. I would say I got something that most science students never had the chance to learn, and even though I might never use some of that knowledge daily, it shaped me into a more complete person.
Learning is not only about gaining industry-specific skills, but even more about exploring everything that's out there and is waiting to be studied. At times it may feel like you're becoming the jack of all trades and master of none; however, if you don't explore your interests at this time of your life, then, when will you?
Putting it short: the world offers a lot of things to explore, so it would be a pity to get stuck with one thing so early on.
Luminous alumni association
As a graduate, you will remain a part of the UCM community by becoming a member of our Luminous alumni association. Luminous was established in 2005, right after UCM's first graduation ceremony. Luminous helps alumni to form lasting connections with fellow alumni and current students.
With the support of UCM, Luminous organises social events such as yearly alumni dinners and Liminous meetings to establish and maintain these connections.
Maastricht University also organises several alumni activities, such as: Ambassador lecture series and Alumni Circle Meetings in Europe and beyond. This way you stay connected to Maastricht University.