Why this programme?
Drug Development and Neurohealth
This specialisation provides you with a theoretical background and practical experience in pharmaceutical drug research & development, biomarkers and personalised healthcare. You will have interactions with industry and regulatory agencies. The overarching theme is the pipeline of drug research & development from design of the molecule to its applications in healthcare settings.
Programme outline
The programme covers the process of bringing a new pharmaceutical drug to the market once a lead compound has been identified (drug discovery). You will gain a thorough understanding of:
pre-clinical research (in-vitro/in-vivo)
clinical trials (in volunteers and patients)
obtaining marketing authorisation
molecular, biological, neuroanatomical, electrophysiological, and behavioural techniques
biomarker development into diagnostics
clinical trial methodology
pharmacovigilance
Internships
From November of the second year, you will devote your time to the preparation and execution of your research internship and master's thesis. You will conduct your own research project (very often as part of a larger ongoing study), including the writing of a proposal, acquiring and analysing the data. The work is reported in a master's thesis, written in the style of a scientific journal article. Given the strong multidisciplinary research infrastructure here in Maastricht as well as extensive international networks, you will have ample opportunities for internships related to any aspect of Drug Development & Neurohealth, either locally or at other top universities throughout the world. We will help you find a topic and location that best fit your own interests and career goals.
During the programme, you will be part of a multidisciplinary team of neuroscientists including biological psychologists, pharmacists, molecular- and neurobiologists, neuroanatomists, pharmacologists and psychiatrists. These professionals participate in world-wide international networks of research in relevant fields at academia and industry. This offers excellent opportunities for internships at small, medium and large biotechnology- / clinical research companies, pharmaceutical- and nutrition industries as well as governmental organisations in food and drug regulation. You will find some internship examples below.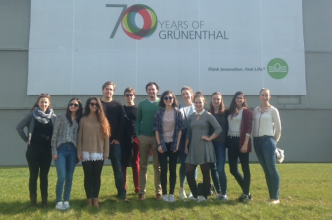 "I have chosen the master's programme Drug Development and Neurohealth and I'll never regret this choice. This specialisation moves through different biology and psychology topics, enlarging your knowledge in both fields. The study gives you a lot of freedom to search for, and/or enlarge your own field of interest. Going through the whole pipeline from drug discovery to clinical phases will give you the knowledge you need to start a scientific career in drug research. Furthermore, this specialisation in Maastricht is the only study programme of its kind in Europe, ensuring that you will study in a group of enthousiastic international students."  
Marion Wijering (The Netherlands) student in Drug Development and Neurohealth