Human Movement Sciences
Your future
As a Human Movement Sciences graduate, you'll have a holistic background in physical activity, ageing, health and sports. 
Career paths
Researcher
Many Human Movement Sciences graduates continue on to a PhD programme or find employment as a researcher working for companies and organisations in the medical sector.
Product developer
As product developers, Human Movement Science graduates help develop or optimise products that help people with reduced mobility, such as braces. 
Trainer
Graduates of the Human Movement Science programme have also found jobs as trainers at rehabilitation institutes or major sporting clubs, where they either focus on helping people regain their mobility, or help them maximise their physical performance.
Sports nutritionists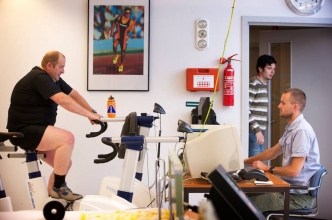 Alumni @ Work
Graduates have found positions as:
human factors specialist at ErgoS Engineering and Ergonomics
senior scientist at Nestlé and DSM
lecturer at Fontys Sport Hogeschool
advisor NOC*NSF / TVM speed skating team
entrepreneur working with braces
embedded researcher at Sport Centre Papendal
applied scientist at rehabilitation centre
researcher at Service Medical
PhD student at Maastricht University as well as at other universities worldwide