Why this programme?
European Studies on Society, Science and Technology
The emergence of new technologies – such as social media platforms, corona apps, robotics, and sustainable energy resources – opens up both opportunities and threats to modern societies and economies. Citizens, governments, businesses and universities face great challenges when trying to take advantage of the seemingly infinite opportunities of scientific and technological innovations, not least because of the unintended consequences that often accompany them.
Convinced that innovation cannot be captured by economics alone and that a purely technical approach is not enough to understand today's knowledge society, ESST approaches scientific and technological development from a multidisciplinary perspective. The programme explores the interrelated worlds of the scientist, engineer, politician, and citizen by examining the values, economics, history, and politics of modern innovation. Furthermore, its global, culturally sensitive and environmentally conscious angles help you develop ethical awareness and public responsibility.
Programme highlights
The master's programme European Studies on Society, Science and Technology: 
Looks at the complex interactions between society, science and technology
Trains you as a problem definer, problem solver, and bridge builder
Prepares you for a career in government research institutes, policy institutions, NGOs and private companies
Has truly international classes (average of 10 different nationalities)
Is interdisciplinary (students training in science & engineering, and social sciences & humanities)
Is a joint master's with 13 universities in 13 countries, and multiple specialisation options
Offers exchange opportunities in the 2nd semester where you can conduct research abroad
What will you learn?
In this programme, you will:
Get insights into controversial areas and acquire knowledge of the research methodologies needed to study debates, policies, and the underlying assumptions about the relationships between science, technology and society
Become adept at looking at issues from a variety of perspectives
Learn how to tackle complex ideas, which are indispensable to real-world problem solving 
Become a 'systematic thinker' so you can build bridges between different parties involved in a given situation
Multidisciplinary approach
The ESST programme offers an integrated curriculum that is based on disciplines such as philosophy, anthropology, innovation studies, sociology, sustainability studies, history, feminist theory, risk analysis, evolutionary economics, and systems development and design. This approach is essential to the programme because:
Innovation and technological change are not merely technical or engineering matters; they're social processes
Political, economic and cultural processes shape the evolution of technology
The application and spread of new innovations also involve social, economic and political decisions
Scientific and technological innovations have impact on society
ESST will give you a broad theoretical foundation and will teach you how to build bridges between disciplines, something that will valuable later on in your career.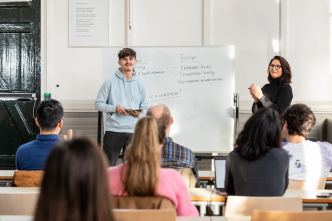 Analytical focus
The analytical focus of ESST is on:
Political and cultural analysis of the modern knowledge society
Social and economic analysis of different cultures of innovation
Ethical reflection on scientific and technological development
Specialisations
You can choose from a number of specialisations that you can take at Maastricht University or abroad.
  View the specialisations