Why this programme?
Business Engineering
In an era characterised by rapid technological developments and radically different business models, it is crucial to provide an educational programme that gives you the capabilities to respond to the challenges of today's society.
Think of the widespread use of new technologies such as additive manufacturing or virtual reality applications. Alternatively, the growing importance of analysing and interpreting big data and understanding that humankind should be smarter in using the limited natural resources on our planet. That is why it is crucial to understand the context in which these challenges arise, in order to solve these complex problems.
Let's have a look at the following example. Delays in the production of aircrafts due to engine problems can only be solved by combining and integrating different disciplines which might include materials science, product engineering and operations management.
How fast do materials wear and tear?
Should the design of the aircraft be altered to solve the problem?
How could inventory management be optimised to rule out production delays?
Problem- and Research-Based Learning
The main method of instruction for the BSc Business Engineering programme is Problem-Based Learning (PBL). In a PBL environment, you work in small tutorial groups of about 15 students on scientific and social issues, usually in the form of case studies. You conduct discussions, exchange knowledge and formulate your learning goals as a group. By actively addressing real-life issues, you better grasp the theory and learn to apply your insights to various situations. The variety of perspectives enlivens the discussions and allows you to experience the true strength of your group's cultural diversity. 
Furthermore, in the curriculum of the BSc Business Engineering programme we also integrate Research-Based Learning (RBL) as an integral part of your education. In RBL, you work on contemporary research topics as part of your study. During courses and skills trainings, you examine research problems for which the answers are not yet known. You conduct your own research in close cooperation with scientists and researchers during the project periods and the Thesis Research Project. This allows you to apply your knowledge and to make your own discoveries, rather than simply learning about existing theories.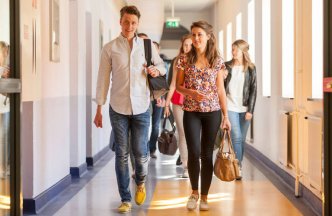 Be a part of something new
Traditional scientists or engineers developing new material, approaches or methods require additional business and economic expertise to commercialise their end product or service on a larger scale. Similarly, entrepreneurs or business managers might identify gaps in the market, but lack the scientific and engineering expertise to successfully launch the product or service.
The BSc Business Engineering programme bridges these two worlds by unifying the disciplines of science, engineering and business.