Why this programme?
European Studies
The bachelor's programme in European Studies originated from one core idea: It is impossible to understand modern-day Europe and European integration from the perspective of only one discipline. Take the war in Ukraine, or the challenges presented by Covid-19 as examples. These crises can never be fully understood from an economic, political or financial perspective alone. In order to understand what is happening, and to grasp how the European Union responds to these challenges, we also need to analyse the historical developments and different political and cultural backgrounds of European countries that are cooperating to manage the crises.
Societal and political challenges can only be understood in the broader socio-cultural contexts. Politics, law or economics alone are not enough to solve the European 'puzzle'. Therefore, European Studies adopts an interdisciplinary approach, combining insights and methods from political science, history, international relations, law, economics, philosophy, and sociology. 
The big questions of Europe and the EU
In the European Studies programme, you will explore the answers to questions such as:
What is Europe and how do we define it?
How has Europe's history shaped the continent?
What impact does the integration process have on Europe's cultural diversity?
How has the disappearance of internal European borders changed border regions?
What is the relationship between European institutions and national governments?

How does European legislation affect our daily lives?

Does the elected European Parliament have enough power to exercise democratic control over Europe's governance?
What role can a united Europe play in international politics?
Note from the former Programme Director on Brexit:
Why study European Studies in times of crisis?
Bachelor Theses Conference
In June 2022, the annual "Bachelor European Studies Theses Conference" was held. The conference is organised to offer students an extra opportunity to receive feedback on their final papers. Over 20 students took part in several workshops, chaired by academic staff.
 The best bachelor theses were published in this booklet.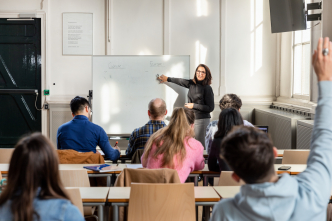 For this programme you'll need:
a broad interest in European culture, history and politics
an interest in our interdisciplinary approach
self-discipline and excellent time-management skills
a critical mind with a broad academic orientation
good knowledge of the English language (we advise CEFR C1)
to enjoy interacting with students from different nationalities
to be attracted to the small-scale and interactive character of the teaching system